The Ultimate All Season Flyer! Do you like to fly all spring, summer, fall and winter? I believe the 39" Puddle Star fits this bill perfectly. The Puddle Star can fly off of water, grass and snow making it an ideal first seaplane. The build was a little different than the standard flat fuselage models from Twisted Hobbys.
The Puddle Star builds similar to a full fuselage balsa plane utilizing foam and wooden side servo plates to reinforce the wing saddle and wing mount. I prefer to use a foam building board, parchment paper and T-pins when building my models and Faom Tac is my choice of glue. The model is powered by dual motors and speed controls. You can choose to mount the ESCs outside or inside the fuselage. I opted to use a soldering iron to make a pocket for the ESCs to mount in each wing and a channel to run the esc and motor wires through. I used Foam Tac for the entire build except for assembling the motor mounts and mounting them to the wing for which I used CA.
For all my Twisted Hobby builds I've always used their recommended Electronics Combos which include everything you need for the build minus your favorite RX and battery choice which you can also purchase from them. For the Puddle Star I chose their PC19 Power Combo which includes (2) Crack Series Pro 2305 1560kv motors, (2) Crack Series 12A ESCs, (4) CSP-D14MG servos, (2) 7x3.5 GWS DD props and a JST Y harness. I also purchased a few of Twisted Hobby's Crack Series 850mah 3s lipo packs to power the build.
The Puddle Star is surprisingly acrobatic for a twin motor seaplane. Generous oversized control surfaces allow for sport or 3D style flying. With a flaperon mix you can also fly this model as a STOL aircraft. The plane is very visible in the sky with its white, purple and blue paint scheme.
What drew me to this aircraft was the fact I can fly it off grass in my yard, water when out on the lake and off snow during the winter months. Also you don't really need a runway as you can hand launch the model or with a flaperon mix she only needs about 2' to take off and land. If you are ready for the most versatile all season, all flying style aircraft pick up and build yourself a Puddle Star today! See you at the field! Chris Your #1 All Season Flyer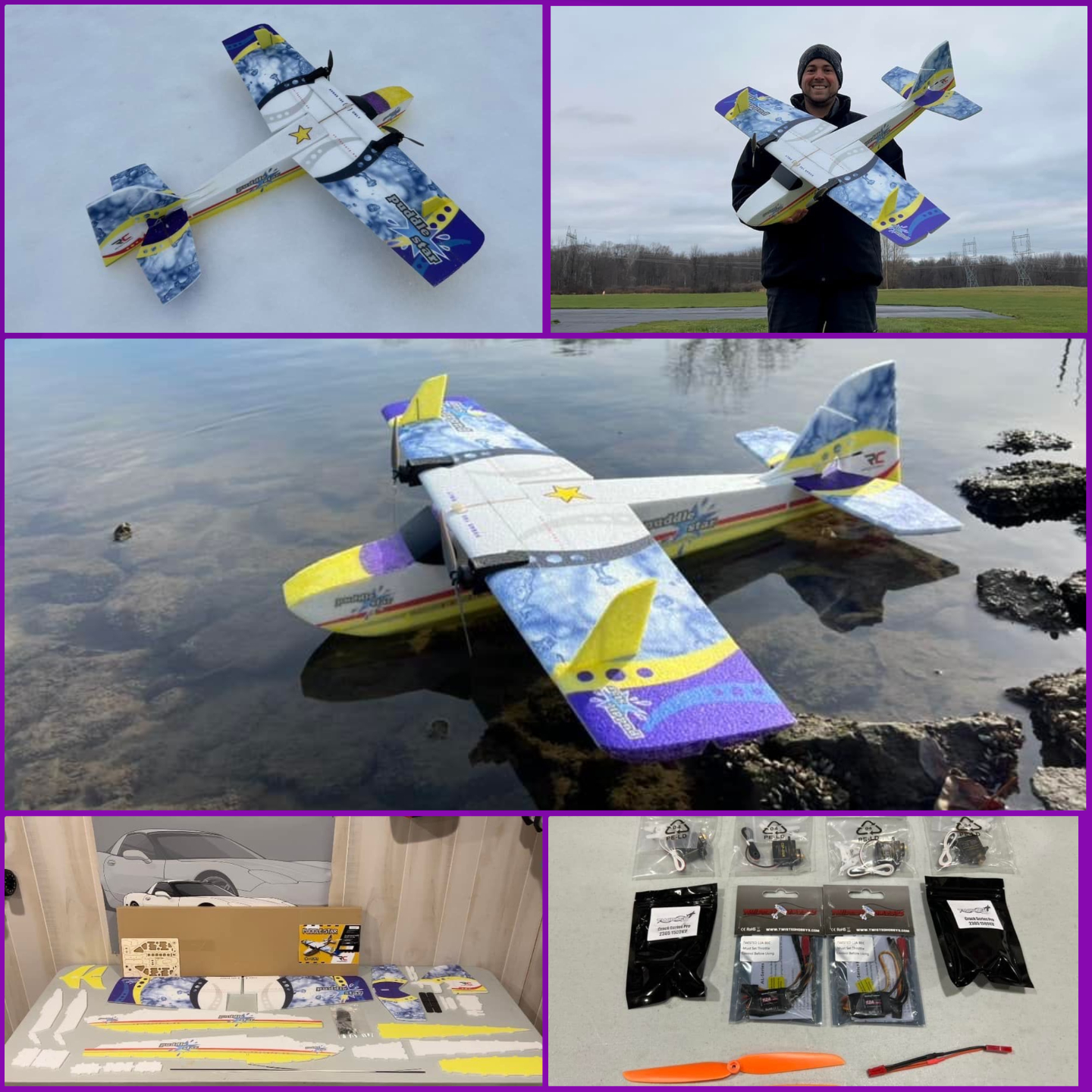 Recent Posts
Chris Doerr dives into this Crack Pitts XL model by Twisted Hobbys. …

Talk about a unique model that is 3d capable yet also a tow truck!!! …

It's absolutely exceptional with how the Hacker Model's MX2 fly's, and the color scheme is super vib …