What do you get when you feed the popular Crack Yak after midnight? The all new Crack Yak 55 XL with a 43" wingspan, thick EPP construction, a stepped air-foiled wing design and plenty of power for Ultimate 3D performance. I have put hundreds of flights on my 32" Crack Yak and it was a no brainer that I knew I had to buy the Crack Yak XL when it was released.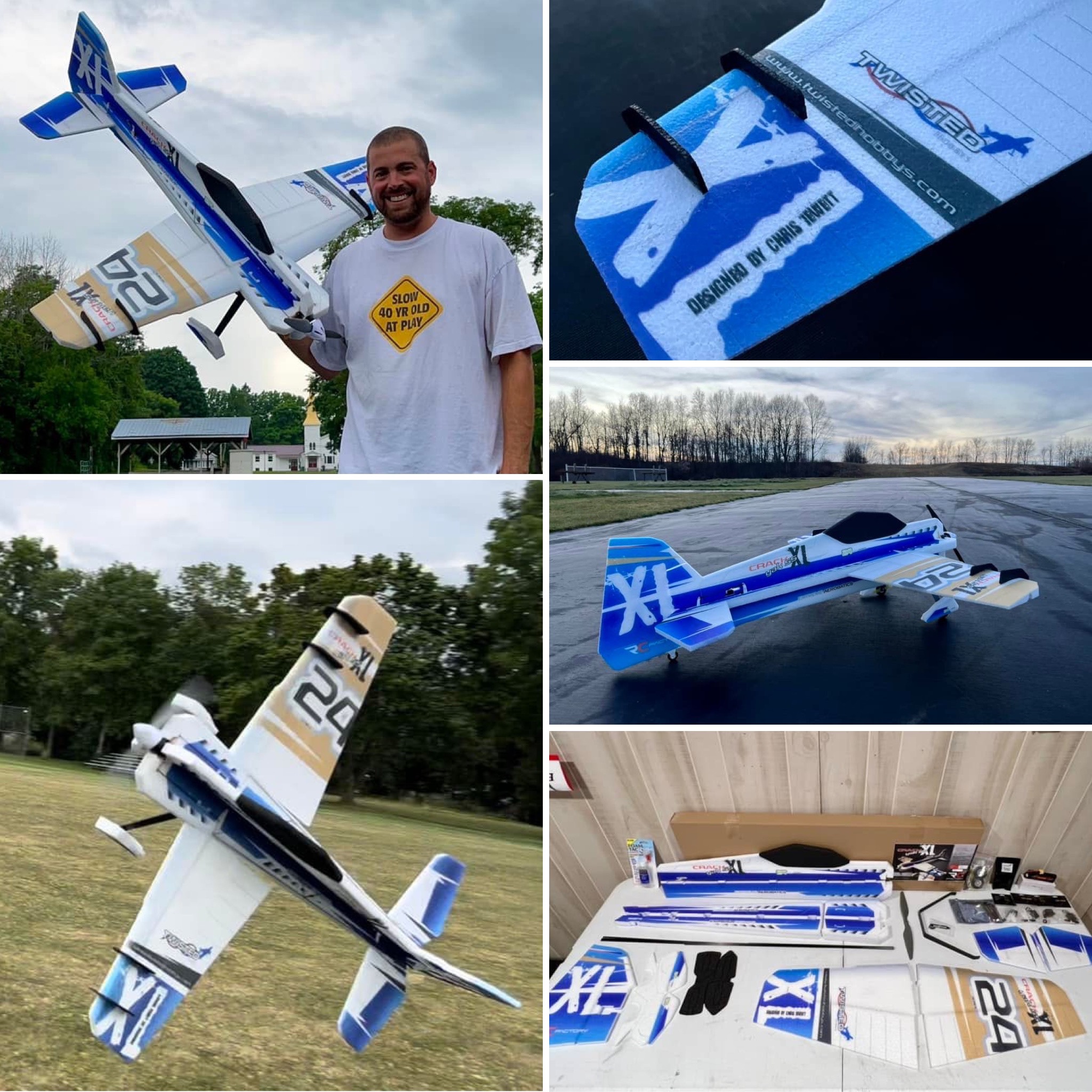 The Crack Yak 55 XL builds similar to the other 42"-48" mono planes from Twisted Hobbys. I like to use a foam building board, parchment paper and T-pins when building my models and use FaomTac as my choice of glue. I make sure all parts have even amounts of adhesive and allow the parts to fully bond before moving onto the next step of the build. CA glues work great on this type of EPP foam for a faster build but Foam Tac will give you a strong bond and allow flex when when needed whereas CA seems to have more brittle joints. The Yak XL uses carbon fiber bracing reinforcement throughout the horizontal fuselage on the top and bottom for a super strong and rigid assembly eliminating any fuselage flex during hard rolling maneuvers. Some new changes I really enjoy about the Yak XL are the 3D printed servo control horns and landing gear mounts, a steerable tail wheel assembly and the new aileron servo placement farther out in the wings for better control surface authority. The biggest difference with the Crack Yak XL is that Twisted Hobbys added a full rotating elevator stab allowing massive pitch authority for crazy 3D maneuvers like tumbles, crank shafts, walls and More!
For all my Twisted Hobby builds I've always used their recommended Electronics Mono Combos which offer plug and play performance, quality and affordable price all in one package. They include everything you need for the build minus your favorite RX and battery choice which you can also purchase from them. I chose their 42"-48" Mono Combo which includes a CSP-2814-1050KV brushless motor, CSP-45 or 65a ESC, (4) CSP-D18M digital metal gear servos and an APC 12x4.5MR prop. I also purchased a few of Twisted Hobby's Crack Series 1800mah Lipo packs to power the build. This is a tried and true power system and this combo on my Veloxity has over 400 flights on it. The electronics are strong, light and powerful running off of a 3s 1800-2000mah power system. The ESC now offers a 6v BEV and the motor and ESC are already soldered with bullets and a XT60 battery connector getting you into the air even faster without having to solder anything! Recommended prop sizes are a 11x5.5 - 12x6 thin plastic or wood prop. I settled on a XOAR 12x5 black wooden prop and a white 2" vented prop to give the model an even cooler finished off look.
From the first punch of the throttle the Yak took to the air flying on rails with just a few clicks of trim. This Yak XL flies light yet feels like a balsa model in its size category and it does not lack in the 3D flight category. With the fully functional stab this plane does tumbles, waterfalls, blenders and crack shafts with ease. The giant control surfaces allow extremely 3D maneuvers at even slow flight and the plane will knife edge for miles. After flying my Veloxity for seven seasons which has been my favorite plane to date the Yak XL has has quickly moved into its position as my new my favorite plane to fly. It always accompanies me to the flying field and makes for a great first flight and last flight the day. The colors look amazing in the air and the plane does everything I ask it to do. The stepped airfoil of their planes really give you the full fuselage balsa plane feel in an affordable and durable foam airframe construction design. As always Twisted Hobbys have hit yet another home run out of the park with this model. Don't believe me, pick one up today and try it out for yourself. I promise you will grinning from ear to ear every time you hit the throttle and take to the skies with the Crack Yak 55 XL.
Unboxing Video -
Build & Overview Video
Flight Videos:
Product: Link
Recent Posts
Chris Doerr dives into this Crack Pitts XL model by Twisted Hobbys. …